SPIDER-MAN #1 "Ruin"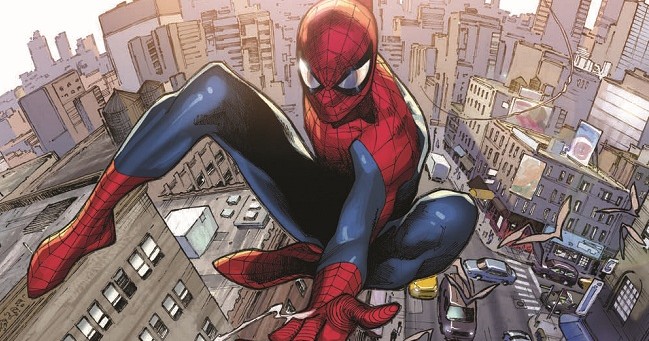 "And with today's historic arrests, a massive blow has been struck against organized crime in New York City," the pretty young blonde said on the television screen.  "Six underbosses from the organization of the man known as the Kingpin are now in federal custody, thanks to a joint operation over a year in the making.  Unfortunately, these arrests seemingly bring authorities no closer to the Kingpin himself, a man whose identity is still shrouded in mystery.  Speculation runs rampant as to the Kingpin's identity, with guesses ranging from newspaper publisher J. Jonah Jameson- who has proven that he is NOT involved- to supervillain Doctor Octopus to philanthropist and venture capitalist Wilson Fis-"
The television clicked off, and Aleksei Sytsevich, the Rhino, spun to the man holding the remote in his steel tentacle.
"Hey Doc!" he exclaimed.  "I was watching that!"  His exasperation emphasized his Russian accent.  Doctor Otto Octavius smiled at his subordinate.
"Aleksei," he said, "what have I told you about watching too much television?"
"That it rots my brain?"
"Exactly," Otto said.  He pushed himself up with two of the steel tentacles attached to his waist under the tailored suit he wore.
"You've got that look Doc," Mac Gargan called from the table where he played cards with Herman Schultz.  Schultz looked up from his corned beef and pickle sandwich and nodded.
"You mean the 'I'm hatching a devious plot' look?" he asked the Scorpion.  He nodded.  "Yeah, he totally has that."
"Of course I'm hatching," Otto laughed.  "I've been waiting for an opportunity for the Sinister Six to gain more and more power.  Now, with Mister Fisk's organization weakened, it may be a perfect opportunity to overthrow the Kingpin and claim our own positions on the top."  He smiled and adjusted his glasses.  He opened his mouth to speak again, when a new voice interrupted his monologue.
"You're right about all but one thing," the voice said.  A man in a red cloak stepped from the shadows in the Sinister Six's warehouse hideout.  He lifted his left arm, leveled a semi-automatic pistol at Doctor Octopus and fired two shots.  The bullets seemed to catch fire for a split second before they both struck Otto in the stomach.  He collapsed in pain, his mouth open in a silent scream.
"You're not going to have any position at the top," he said.  Instantly, Rhino, Scorpion and Shocker were on their feet, assuming defensive stances.  The newcomer didn't seem to mind.
"I only count four," he said.  "I thought you were the Sinister SIX."
"Mysterio's in prison," Gargan said.  "Vulture's out on personal business."
"So one short," he muttered, rubbing his chin.  "Easily fixed.  Now gentlemen, I'm not here to do to the rest of you what I did to your fearless leader.  My name is the Hood, or Mister Robbins if you prefer, and I'm here to offer you all jobs, even the absent Misters Tooms and Beck."  He lowered his hood, revealing a young man, with years of experience on the streets written in scars across his face.  His hair was recently shorn, with the faint shading of a few days' growth coloring his bare scalp.
"I want the Sinister Six as a part of my army," he continued.  "The most elite of my army.  In return, each of you will be rewarded handsomely when we rule the underworld.  If you do not wish to aid us-"  He chuckled.  "-you will turn out like dear Otto."
Scorpion sneered.  "When you put it that way," he said.  "How can we say no?"
The group began to laugh.
At the edge of the warehouse, Otto Octavius's tentacles dragged the critically injured supervillain away from the others, desperate to save their master's life…
ALTERED VISIONS PRESENTS
THE WORLD'S GREATEST SUPERHERO

Peter Benjamin Parker flipped over New York City traffic, as dusk fell slowly over Manhattan.  His joyous whoop echoed in the steel and glass canyon surrounding him.  He started to fall, and he tucked his arms and legs in tight, dropping like a bullet towards the street.  After about eight seconds, he threw his arms out wide, and pressed the middle and ring finger of his left hand against a trigger embedded in the palm of his glove.  A thin line of web shot from the web-shooter device at his wrist, catching one of the buildings to his side.  The line pulled taut, and he strained against the line as well as his own weight.
Spider-Man cried out joyously again as he launched into the air once more.
People on the street below began to notice him and point as he swung over their heads.  He grinned as he turned a corner.  He was five minutes away from where he planned to meet his wife.  Mary Jane had caught a break in rehearsals and this was his only chance to see her until the next morning.  The theatre wasn't far from the Daily Bugle building.
About a year before, Robbie had finally offered Peter a salaried position on the Bugle staff.  He had quickly proved himself.  A few weeks ago, he had won a promotion to the photo editor of the Bugle's Sunday magazine.  Between his new job, and MJ's play being in the final stages of production, the two had barely seen each other for weeks.
He slowed and lowered himself onto a rooftop.  He shrugged the bag of webbing he wore off his back.
=*=
Peter adjusted the narrow black tie he wore loosely over his white shirt with a light blue plaid pattern as he walked out of the alley.  He adjusted the blue messenger bag over his shoulder, ensuring his costume was well hidden inside.  A camera bulged in the front pocket, ready to grab if the opportunity presented itself.
He was only a block from the cafe where he and MJ had decided to meet.  He smiled broadly as he walked.  It was a gorgeous day out.  The sun shone down between buildings and the stone and steel corridor held the warmth from the sun in.  He couldn't help but grin as he walked.
He smiled as he saw his wife, Mary-Jane Watson-Parker sitting in a booth in the front window of the cafe with her back to him.  She wore her red hair in a loose ponytail.  He could see the shoulder of her favorite baggy blue T-shirt, a staple of her time in rehearsals.  She turned and glanced over her shoulder.  He grinned and waved.  She smiled and returned the wave.  He took a deep breath as he walked towards the cafe, almost expecting his spider-sense to flare to life.  It would have just been the continuation of the Parker Luck.
Of course, it seemed like the Parker Luck was split in half now, so it wasn't nearly as bad as it once was…
=*=
Benjamin Richard Reilly dropped to the ground as a manhole cover whipped over his head.  He threw out his left arm and shot a small blob of webbing from the webshooter mounted on his wrist.  The blob sailed past the manhole and exploded, ensnaring the projectile in a wide net and ensuring it would do no damage.  Ben spun back to the Grizzly, his brow furrowed.
"Come on big guy!" Spider-Man yelled.  "I thought you were a lookout, not playing frisbee!"  Maxwell Markham bared his dagger-like teeth at Ben.  In the last few months, Markham had ditched the furry exoskeleton in favor of tech implants, becoming well-known as an enforcer and muscle.  His costume was now all brown light armor, with a white pattern covering his upper chest shaped like bear teeth.  He wore a bear pelt over his shoulders like a cape, with the head resting on his own head.
"I've been looking forward to this smart-ass!" he bellowed.  "You know you Spider-Jokers have a pretty massive underworld bounty on your heads?  Low six figures for the heads of you and the other Spider-Man, and high five figures for your little Junior Spider League!"  He bared his claws and grinned.  "I'm gonna collect today!"
"Awwww, I'm touched!" Ben declared.  Before he could quip again, Grizzly put his head down and charged.
Ben braced himself as the massive man charged.  Markham was a wrestler in his past life.  He got his arms around Ben, he was done for.  His mind raced through all the possible paths he could take to take him down.
"B, you need back-up?" a voice suddenly said in his ear.  "I've got Hornet only a few blocks away.  He can be there in minutes."  Ben pictured Ollie Osnick at his desk in Brooklyn, listening in via his Web-Net security network.  He grinned.
"Call him if you want," he said.  "I'm good though."  With that, he jumped into the air, flipped over Grizzly and slammed his fists into his back.
=*=
"Hey Peter," MJ whispered as she hugged him.  They held the embrace for a few moments.  Both had been busy the past few weeks, allowing for only a few hours of together time.  The lunch was a fortunate fluke when rehearsals of The Pajama Game had to take a pause for some technical issues.
They let go and sat down.
"Wow," Peter said.  "Forgot how gorgeous you look in the daylight."  MJ laughed.
"I know, right?" she said.  "I think this might be the first time I've seen you awake in three days too.  I already ordered you a Rueben, by the way."
"Thanks, and good grief," Peter muttered, running his hand through his hair.  "We need to slow down a bit, don't we?"
"Yeah," MJ said, "definitely.  Technical rehearsals are only another couple weeks, then we can start to take some time together."
"Oh yeah?" Peter said.  "Anything in mind in particular?"  MJ grinned and leaned forward.
"I think it's time we tried to have another baby."
=*=
"Come on big guy!" Ben exclaimed as he flipped away from Grizzly.  The villain stumbled away from Spider-Man, obviously dazed.
"This is worth the bounty," he growled.  "Hell, I'd probably do this for free!"
"I bet that'll be what Kraven says when he decides to shoot you for stealing his look!"
Markham's face turned bright red and his face twisted in rage.  He charged Ben again.  This time he was stunned by Grizzly's speed.  He closed the gap between them in seconds and swung at his head.  Ben dodged just in time.  The strength and ferocity behind the blow would have taken his head off.
Crap.  Totally pushed him too far.  All over a fashion joke.
Ben dropped and rolled away.  He came back up, and shot a pair of stingers at Grizzly.  He knocked one away, but the other struck his neck, delivering a heavy dose of venom to his system.
"What… did… you… hit… me… with?" he struggled to say.
"This spider bites buddy!" Ben exclaimed as he launched himself at Grizzly.
=*=
"A baby?!" Peter exclaimed.  "Whoa, seriously?"  Peter's mind spun as he began considering the possibility of trying again.  Their first child had been lost tragically.  It had nearly ruined Peter and MJ.
"Yeah, you don't like the idea though," she muttered.  She sat band and folded her arms.  Her shoulders sank sadly.  Peter grinned, reached across the table, and pulled her hand free.
"It's a great idea," Peter said.  "You just surprised me.  It's been so long since Baby May… It's time to try again.  We've been so busy…"  He laughed.  "We need to be us again.  And this will give us a common goal.  Something to shoot for."  MJ relaxed and visibly brightened up.
"Are you serious?" she asked.  "Because if you're not-"
"Sssshhhhh," Peter said.  "I'm more than okay.  Let's do it."
MJ grinned.  "A new little Baby Anna, or Richard," she said.  "Just imagine."
"I already am."  The waitress brought their food just then, and the couple began to wildly imagine their dream nursery…
=*=
Ben punched Grizzly hard, flipped over him and swept his legs.  He landed on his knees and feebly pawed at the air before collapsing in a heap.  Ben grinned and thrust his arms in the air.
"And the winnnah and new champeeen!" he exclaimed.  "Spider-Man!"  Onlookers began to clap and cheer for him.  He bowed several times before turning back to Grizzly and spraying him with webbing.
"Hey Steel Spider," Ben said.  He glanced around before finding one of the tiny spider-drones Ollie used.  One of his conditions to joining Ollie's "W.E.B." was that each drone would be fitted with a Spider-Tracer, a condition Peter echoed.
He walked up to the drone and waved at it.  "Hey, where's the truck Grizzly was playing interference for?"
Ollie's voice filled his ear.  "When you said you were good, I sent Hornet after them.  H has them taken care of."
"Good," Ben said.  "I'm going to head out then.  Talk to you soon."
=*=
Peter sat on a rooftop not far from Williamsburg, overlooking a pawn shop.  He sat quietly, watching as about six young men loaded a battered white box truck.  He was completely overwhelmed and needed a good old fashioned bust.  He and MJ had barely been a couple for the last three months, and now she wanted to become a family?  They hadn't drifted apart in that time, thankfully, but still it was a scary change.
He smiled.  Just another new challenge.  Bring it on.
"So you really going to sit here and let them steal all that stuff?" a voice from behind him said.  "Or you going to live up to the mask you're wearing?"
"Taking advice from Daredevil," Peter said, turning towards Ben Reilly.  He grinned at his "cousin."  Even though one was a clone of the other (although which was which was still a matter of debate given Norman Osborn's involvement), they had little in common any more.  Their gait, posture, movements, fighting style, even their voices were different.
"What's that?"
"Something like this, if you prevent the crime entirely, the police have a shaky case to put the criminals away," he said.  "You catch them in the act and the police have a lot more to go on."
"Makes sense," Ben said with a shrug.
"And you claim to be a cop," Peter teased.
"I'm a crime scene tech," Ben said.  "Totally different part of an investigation."
"I thought you usually call yourself a detective specialist."
"Don't play that card with me.  I don't know if you're a photographer or editor with the Bugle."
"Point taken," Peter said.  He turned back to the pawn shop.  "They have enough stuff now.  Want to tag team them?"
"Oh yeah, sounds like fun."  They both fired weblines and swung down to street level.
"Something's bugging you," Ben said on the way down.  Peter laughed.
"You know me too well," he said as he landed behind the truck.  Peter sprayed a net of webbing over the back of the truck, trapping three of the young men inside.
"Duh," Ben replied.  The remaining three men walked out of the shop, carrying a particularly large and awkward television.  Ben waved at the burglars.
"Heya guys," he said.  "Made a bad move here, didn't ya?"  They dropped the TV with a crack.
"Well, we better stop this burglary for sure now," Peter quipped.  "The new street value of that TV doesn't make it worth it at all now."
One of the thugs rushed Peter, and the other two charged Ben.  Ben scowled beneath his mask.
"Seriously?  Two on one."
"Come on," Peter called, "you have the proportionate strength of a spider."
"This is true," Ben said, dodging between the pair.  He shot a glob of impact webbing at one, and the webs ensnared his legs.  He dropped with a crack and stayed down.  "So, what's bugging you?"  The second burglar spun as best he could and swung at Ben.
"Oh, the wife is ready for try for another kiddo," Peter said, slapping away his attacker's awkward punch.  He grabbed the burglar's shoulder and pushed him into the truck.  Pounding from inside grew louder as the now-dazed burglar dropped.  Peter quickly sprayed him with webbing before he could recover.
"That's fantastic!" Ben exclaimed.  "If she's ready…"
"Yeah, I know," Peter said, "but we've barely been a couple the last three months.  Kind of a big step."
"Is it too fast too soon then?" Ben asked.  He dodged another awkward blow from the burglar, and punched the kid across the face.  He dropped to the ground with his partners, also unconscious.
"I don't know," Peter said, walking over the Ben as he covered the crooks in webbing of his own.  "On one hand, I'm ready.  Ever since we lost baby May… you know…"
"Kind of," Ben shrugged.
"Right," he said.  "On the other hand, I kind of want to get back to just how things used to be first.  Being Pe- 'us' again."
"Think of it this way," Ben said.  He stepped over the unconscious crook to Peter's side.  "There's never a good time to make a change this big.  You really just need to brace yourself and jump in with both feet."  He patted Peter's shoulder.  "Besides, you'd make for a great dad."
"Yeah, that's so true, thanks," Peter said.  He sighed and looked around.  Three webbed up burglars lay around them, and the three trapped in the truck pounded on the walls of the box truck furiously while screaming.  "Man, we have our heart to heart's at the weirdest times.  Should we call the cops now?"
=*=
Eugene "Flash" Thompson stared at the small flat piece of golden metal in his hand.  He couldn't believe the path his life had taken, from high school football star, to drunken washout, to the NYPD.  He had idolized Spider-Man for years, and had always wanted to live up to his standard.  About two and half years ago, he'd realized he probably couldn't ever become a superhero like his idol, but he could become a real hero.
Although the military and FDNY had both been options, he found himself drawn to the NYPD.  He progressed quickly on the streets, working with the narcotics unit of the Organized Crime Control Bureau.  Now…  he was a detective third class with the NYPD.  And on his first day he found himself in the most exclusive unit in the NYPD, the Super-Crimes Squad.
"Probie?"
Flash looked up at his training officer, Detective First Class Yuri Watanabe.  Detective Watanabe smiled at him.
"You good?" she asked.  "First day on the job hasn't made you want to jump off the George Washington Bridge yet?"  She paused.  "Sorry, that was probably in poor taste."
"It's fine," he said.  "I'm good."  He stood and fastened his badge to his belt.  "So what are we in for?"  Yuri waved him to follow through the crowded precinct.
"So it's one of Spider-Man's busts," she said.  "The Grizzly.  Spidey laid him out earlier.  We've got him restrained right now.  Took some serious voltage to pacify him when he first woke up."
They left the crowded bullpen room, and descended down a set of stairs.
"He said anything since then?" Flash asked.
"One thing.  Five words, over and over again."  She led him to the interrogation rooms and waved him to one of the closest.  Instead of entering the actual room, she'd waved to the observation room.  Flash walked in and felt the gentle hum of the repulsor shielding instantly.  It was a Stark technology, a forcefield used to hold in dangerous superbeings.  He was glad for it when he saw the massive superhuman rocking back and forth in the next room.  His voice was a murmur from the speakers.
"What's he saying?" Flash asked.  Yuri walked up to the the volume controls next to the speaker and turned it up.
"The Hood's gonna get ya.  The Hood's gonna get ya.  The Hood's gonna get ya…"
=*=
Alexjandro Montoya, the hero known as Aguila, held his sword weakly as he held his stomach.  He could feel wet warmth spreading across his arm.  He had scored one blow against his attacker, its blood coloring his blade.  He felt faint, but if he passed out now, he was probably a dead man.
"A little sword isn't going to help you," his attacked hissed from the shadows.  "You're going to deliver a message to others like you."
"Never," Aguila growled.  "I would never be a messenger for one such as you."
"Oh, you don't need to be conscious," it said.  "Or even alive."  The attacker darted from the shadows and punched Aguila across the face, breaking his jaw and knocking him out.
"You just need to show New York's supers that no one will be safe."  The attacker laughed as it boarded a bat-like glider and flew into the night.
TO BE CONTINUED…