Spectacular Spider-Man- "Menace to Society"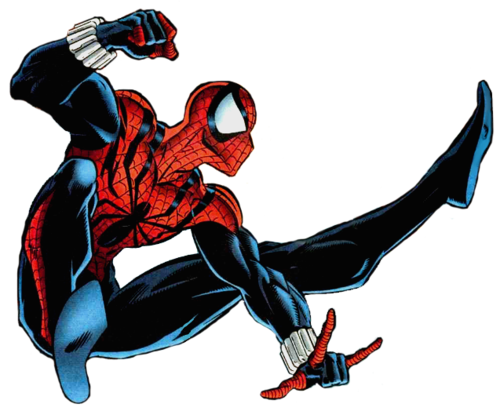 My name is Benjamin Richard Reilly.
It wasn't always this way.  My memories tell me that I was bitten by a radioactive spider around the time I was fifteen and started wearing the costume shortly afterwards.  When my uncle Ben was killed by a burglar that I failed to stop, I became a superhero.  At least, that's what my memories say.
The reality is still in doubt.  In those memories, my name was Peter Parker.  At a certain point in my history, I was cloned.  I fought the clone. Lost.  And was left for dead.  Or so I thought.
The sad truth is, thanks to advanced brain scanning technology, the clone was exactly the same as the original, down to his memories.  Neither of us could ever know the truth.  I took to the road with the identity of Ben Reilly, and the winner of the fight continued life of Peter Parker.  I settled several places along the way, chased by another clone, this one definitely not the original.  I returned home to New York City when I learned that my Aunt May, Ben's wife, was sick.  She passed away shortly after my arrival.
Peter and I were wrapped up in crisis after crisis, unable to settle the question of which one of us was the original.  When we finally did, I was told I was the original and reclaimed the Spider-Man identity.  A short while later, I learned that might not be the truth.  Peter and I both began to use the Spider-Man name, working together.
My name is Benjamin Richard Reilly and I am…
#1
"Menace to Society"
By Tony Thornley
Ben Reilly stood over the disassembled cappuccino machine in the Daily Grind, strongly considering taking the machine to the top of the Empire State Building and throwing it off the top of the building.  He felt a soft hand on his shoulder, and he turned slightly to see his boss, Shirley Washington, standing next to him.
"Still no luck?" she said.
"No," Ben said, "I can't figure out this damn heating element.  It might be time just to buy a new machine."
"Yeah," Shirley said, "I think so.  You can't have a cappuccino machine without steam.  I thought you said you were good with this kind of thing, especially with your flashy new 'other' job."
"I'm a scientist not an engineer," he chuckled, "and that's how I got this job."  He winked at Shirley with a grin.  "I really thought I could figure this out though.  I'm sorry."
"You didn't break it," she said.  She turned to the young woman standing behind them.  "And you didn't either Miss Holister, so stop worry about it."
"Yeah Lil," Ben said, turning to his new co-worker, Lily Holister.  "This is just worn out.  I'm sorry it just happened to be you using it when it happened."  The olive skinned young woman smiled.
"Thanks," she said.  "So it won't come out of my check?"
"No," Shirley said, "it won't.  In fact, I insured the machine just in case this ever happened."  She turned back to the machine.  "Now I just need to pay the deductible.  Maybe it's still under warranty…"  Ben grinned, stepped over to Lily and patted her on the shoulder.  Shirley grabbed her keys and opened a small fireproof safe under the counter which contained various important papers and items.  She pulled out a stack of papers and a credit card.
"You're doing fine," Ben said to Lily.  "Not bad for an art major and former Upper East Sider.  I don't think I'll believe everything Gossip Girl tells me about 'you people.'"
"Wouldn't have pegged you for a Gossip Girl guy Ben," said Devon, Shirley's seventeen year-old son.  The young man sat at one of the stools near the counter, steadfastly guarding the register.
"Me neither," Lily said.  "Very early twenty-first century of you."
"You know me," he said.  "I'm full of secrets."  Ben's phone began buzzing.  He pulled it out of his pocket and glanced down.  The caller ID read "Jess" and he frowned.  It had been six months, and she still tried to call him every day.  Jessica Carradine was the daughter of the man who killed Ben Parker, his uncle, and she blamed Spider-Man for her father's death.  She was also his ex-fiancé.
"If it's that Carradine girl, you better not answer it Benjamin," Shirley said, balancing the store's phone between her shoulder and her ear.  "You moped for a month around here before you got over her.  She owes me money from your lost productivity."
"I didn't mope," Ben said, sticking the phone back in his pocket.  "And there's no way I'm answering this, yet."  Shirley nodded, picked up the store's credit card and began talking to someone about the broken machine.
"What?" Lily asked Devon.
"Jessica and Ben were engaged," he whispered.  "She called it off a few weeks before the big day then disappeared for six weeks.  She and Ben had dinner after she reappeared and he hasn't talked to her since."
"And I probably won't again," Ben said as he picked up a mug and began to wipe it clean.  "I'd rather not even think about it.  It's bad enough she calls every day.  Sometimes she even tries pay phones or friends' phones.  I have nothing to say to her."
"Well, okay then," Lily said.
"And another a happier note," Shirley said, "the equipment distributor can have the new machine delivered by five."  She glanced at her watch.  "Only four hours without cappuccinos.  We can survive that."  She looked between Ben and Lily.  "I probably need to send one of you home until then though.  Either of you want to-"
"I'll go," Ben said.  "The lab called me an hour ago while I was elbow deep in that machine.  I think they probably need my help with something."
"All right then," Shirley said.  "Back by five, and close tonight?"
"Will do boss!" he said.  He saluted Lily and Devon and took his apron off.  "You two behave.  Don't cause her any undue stress.  Call me if you need anything Shirley."  He backed out the side door and waved.  He grinned as he glanced around.
This is really the best part of what I do.  The first moments in costume… they're a thrill, every time.
Ben began to run straight up the wall, shedding his street clothes as he did so.  Underneath, he wore a familiar red and blue costume, with a large, black spider across his chest.  He bundled up his street clothes, put on his mask and gloves and then clicked his pair of webshooters on his wrists.  He sprayed his clothes with a small glob of webbing, securing them against the shop's chimney and protecting them from the weather.
He turned to the tallest building nearby, raised his arm and fired a thick strand of webbing.  He smiled beneath his mask.
Okay, I lied.  This is the best part.
He pulled and jumped at the same time, propelling himself forward quickly.  He fired another line, and another until he was swinging over the rooftops of New York City.
"Woo-hoo!!!" Spider-Man screamed as he let go for a split second before firing another line.
Totally the best part.
Ben used a moment of freefall to press his right ear.  A small, flat Bluetooth headset was sewn into the mask over that ear, and it played a set of tones before a voice informed him the headset was connected to his phone.
"Dial Carlie Cooper," he said.
"Dialing," it responded.  "Please wait."  It rang twice before Carlie's voice picked up.
"Reilly, you get my message?" she asked.
"Didn't realize you left one," he said.  He flipped and fired another webline.  "What's up?"
"The usual weirdness," she said.  "Sorry to call you on a non-shift day.  You on your way in?"
"Already halfway there," he said.  "Shirley just sent me home for the afternoon so I'm at your disposal until five-ish."
"Fantastic," she said.  "You're a life saver Ben."
=*=
Ben slipped a lab coat on over his clothes.  He had stashed a set of clothes at the lab, among other places across the city.  He'd discovered it was somewhat easier that his old method of carrying a bundle on his back, especially with the appropriate webbing to store it in.
He found Carlie waiting for him in the usual place.  The NYPD crime lab was one of the most advanced in the world, and the chemistry lab was like a chem nerd's Disneyland.  Every consult he had was a new challenge.
"Ben," she said.  "I still want to know how SHIELD found you.  Seriously, you're amazing."
"I've told you the story a dozen times," he said with a smile.  "I helped out Spider-Man a few times, he sent the Fantastic Four to me when they needed a chemist, and they referenced me to SHIELD.  Not my fault that Nick Fury left me in his database when you came looking."  Carlie grinned and motioned for him to follow her.  The story was actually simpler.  Peter had referred Ben to SHIELD when he informed his 'brother' that he was looking for a chemistry-related side job, referring to him as a paranormal chemistry expert.  The NYPD called him to offer a consultant position within a week.
"So you want the background now or after you take a look?"
"Sock it to me," Ben said.
"The scene looked pretty brutal," she said.  "We found a low-tier super, named El Aguila-"
"The Eagle."
"-Yup- beaten up pretty badly.  Aguila is pretty much Z-list, apart from assisting Heroes for Hire in a few cases years ago.  It looks like he tried to break up the wrong mugging.  Witnesses claim another costume shows up on some sort of low-flying aircraft and assaults our Zorro wannabe."
"Aircraft?" Ben said.  "Like a glider?"
"Like a glider," Carlie confirmed and stopped at a computer console.  "But not like something your buddy the Green Goblin uses.  Similar, but this glider appeared to be simpler."
"So why am I here?"
"There's a substance we found on El Aguila's sword," she said.  "It's partly blood, so we figure he got a lucky shot in that probably scared UFO away."
"The other part?"
"Take a look," she said.  She tapped the tablet PC's screen and several 3D molecular models appeared on the screen.  A composition list scrolled slowly in the bottom left corner.  Ben began to chew his lip as he read them.
"Caffeine, adrenaline, steroids…" he whispered.  He frowned as he read another component.
"Is there a way to look at a specific molecule?" he asked.
"Tap the name," she said.  Ben did so, and one of the 3D models enlarged.  Ben frowned as he recognized the compound.  It was the basic building block of the Goblin formula.
"Impossible," he whispered.  Last he knew, every intact sample of Goblin formula was in the possession of Phil Urich, the Green Goblin.  The last active villainous Goblin was Jason Macendale to his knowledge, but he had been securely locked away in Ravencroft for nearly a year as far as he knew.  Could Kingsley be active again?  Norman Osborn wouldn't gamble his newly acquired reputation away wearing a mask…
"What's impossible Ben?"
"I think I recognize this," he said.  "You're familiar with the Green Goblin?"
"Of course," she said.
"The Goblins are all linked by a compound, a chemical formula that, combined with several other things, enhances the subject.  Physical strength, speed, agility, all the senses."
"This is the Goblin formula?"
"Yeah," Ben said.  "This particular compound is the Goblin formula."
Goblins.  The last thing I wanted to hear again.
"Thanks Ben," she said.  "Can you stick around for a bit?  I want to see what else we can get from this."
"Yeah," he said.  "I definitely can."
=*=
Ben stood on top of one of the buildings overlooking the Daily Grind.  He still had a half hour before he had to be back to work, and was strongly considering a quick patrol.  It had been quiet for a few days, and he hadn't been out in the webs much.
"Welcome to my parlor said the spider to the fly."  Ben spun to see a thin form dressed in tattered rags standing on a floating disk behind him.  Its face was long and thin, its head covered with stringy red hair, and a pair of blunted horns poked through the hair.
"Who the hell are you?" he growled.
"I am Menace," it said, bowing at him.  Ben noticed how thin they were, and the pitch of their voice.  More than likely, this was a woman, not a man.
"A little on the nose there," Ben said.  "I mean, obviously you're a menace."
"Very cute, Benjamin."  It took Ben a lot of willpower to keep his jaw from dropping.
"Who the hell are you?" he growled.  "And how do you know my name?"
"I am your Norman Osborn," she cackled.  "The thorn in your side, for years to come."
"The Osborns have had nothing to do with Goblins for years," he said.  "Liz is running Oscorp, 100% above the board, and Normie is years from adulthood.  They've escaped the Goblin curse.  And Norman…  he's just an asshole, but he's not a supervillain."
"You take me much too literal," she said.  "But then again, you may be thinking on the correct path.  Who knows?  Maybe the stress of the Goblin family has fractured poor Liz Allen-Osborn's mind.  Maybe I'm a portion of her personality.  A nasty form of sleepwalking."  She leaned forward and the mask's grin expanded.  "Maybe I'm a complete unknown.  A wild card so to speak.  Going to take you a while to find out Benjamin."
Ben bared his teeth, and suppressed a growl.  "What do you want?" he said.  "A throwdown?  Want to hurt people I care about?  People I love?!"
"Maybe," she said.  "I'm not here for a fight today Mister Reilly.  Just a warning."  She pressed something on her belt, and an explosion suddenly rocked the block.  Ben spun to see a car burning directly in front of the Grind, debris and ash raining from the sky.  Shirley, Devon and several customers came running out.  No one seemed to be hurt, and Shirley was waving the customers away from the shop.
"It could happen any time, any where Spider," Menace said.  "Maybe the next time, the bomb will be inside.  Or in the crime lab.  Or your building."  Ben turned but she was already flying away, too far for a spider-tracer or a web line.  He glanced back to Daily Grind.  Shirley needed his help.
He jumped to the ground, his mind racing through the possibilities.  As he covered the burning car with webbing, one question filled his mind.
Who was that masked lunatic?
=*=
Ben stood outside the Daily Grind next to Carlie, while Shirley stood not far away.  The young crime scene specialist eyed the burnt-out car carefully, then Shirley, then the car again.
"You sure your boss is okay?" she asked.
"Positive," Ben said.  "She's been through worse.  This is pretty bad though."  He pointed at the rooftop where he stood mere hours ago.
"That's where I saw Spider-Man and that monster goblin thing-"
"Probably our culprit from the El Aguila attack," Carlie said.
"-Probably, but that's where I saw them as I was walking down the street," he continued.  "It seemed heated, she seemed to grab her belt…"
"She?"
"Uh, she seemed too thin to be male," he said.  "And I heard her laugh.  Didn't seem like a guy."
"Go on," she prompted.
"Next thing I knew, the car exploded," he said.  "Burning debris all across the block."
Carlie whistled.  "What have you stepped into the middle of Reilly?" she asked.  "Scary stuff."
"Yeah," Ben said, looking into the sky.  A chill ran down his spine as he ran through Menace's final words in his mind.  "Scary as hell."
TO BE CONTINUED…