Imperial Guard #1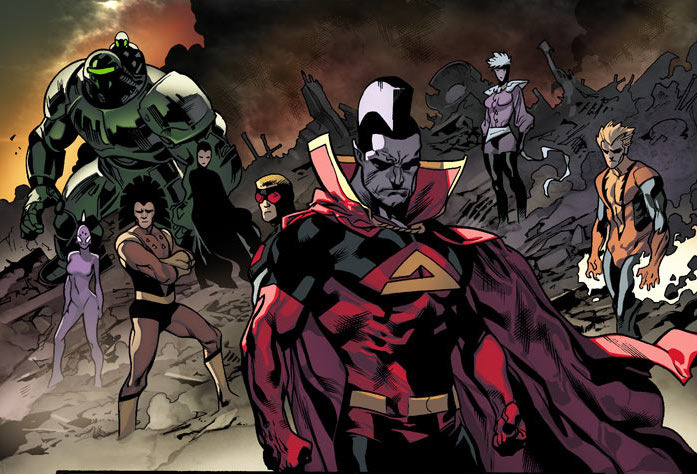 The Future
The ground shattered in massive chunks as he made impact. The debris shot miles into the sky and spread over an incredible distance. He coughed as he regained his bearings, blood spraying the ground in front of him.
Gladiator slowly stood, his legs shaking. His arm was broken and his internal injuries were numerous. His left eye was swelling shut. Burns and wounds covered his body. Never in his life had he taken as much punishment as he had here and now.
The ground at the top of the impact crater shook. Gladiator didn't need his super-senses to know that his opponent had landed to confirm his kill. Gladiator had impacted from over a parsec away. Any other terrestrial creature would have been vaporized on impact with the planetary atmosphere, let alone the planet itself.
Gladiator was not any other terrestrial creature.
He spit more blood onto the surface and leapt into the sky. An instant later, he was slammed back on the surface by an immense impact. As he landed, something else landed beside him.
"You…will not…win," said Gladiator as he struggled to stand again.
"YIELD," said his opponent. "YIELD AND BE SPARED."
"Never," said Gladiator, what was left of his mohawk twisting in the dusty breeze.
"I'LL OFFER ONE LAST TIME," said his opponent, "YIELD. YOU HAVE FOUGHT WELL… BUT NOT WELL ENOUGH. DON'T THROW YOUR LIFE AWAY WITH THOSE OF YOUR COMRADES."
Gladiator stood at his full height. Calling upon every reserve he had, he began beating on his opponent with renewed vigor.
"I—!"
BOOM!
"Will—!"
BOOM!
"Not—!"
BOOM!
"–YIELD!!!!"
Gladiator slumped to his knees, every bit of energy spent. He looked at his opponent lying on the ground before him, recessed into a small crater.
The enemy stood up. Barely a mark covered his armored body. A rueful smile came across his enemy's face.
"VERY WELL, KALLARK. PREPARE TO JOIN YOUR EMPIRE IN DEATH."
The enemy's hand generated a scythe out of energy. He raised his hand…
…and brought it down with finality.
ALTERED VISIONS presents
IMPERIAL GUARD #1
"It's My First Day"
By Mike Hintze
Now
"I can't believe it. I'm really here."
Fallon Caravix stared up at the milespires as she stepped out of the transport vessel. Her arrival on Chandilar, capital planet of the Shi'ar Empire, had been uneventful. She thought she had her nervousness under control until she stepped onto the concourse at Neramani Galactic Pier which adjoined Imperial Center. Now, the enormity of her arrival had hit her square in both of her hearts.
She continued to stare as she walked straight into the last person she wanted to.
"Ahem," said one of her childhood idols. The stern face of the current Praetor of the Imperial Guard, the hyper-intelligent, green-skinned Mentor. Electric arcs raced across the circuitry that was inlaid on his skull, displaying his momentary annoyance.
"Mentor!" exclaimed Fallon, quickly correcting herself. "I mean, Praetor! My apologies!"
"Hm," said Mentor. "Pay it no mind. I thought it prudent to personally greet you upon your arrival. I know that our Majestor often did so when he was Praetor."
"I am honored, Praetor," said Fallon. "I have been hoping to serve the Empire in a meaningful way my whole life. I–"
"Yes," said Mentor, "That is all well and good. We should be off. Duty calls and your orientation is scheduled to begin shortly. Your travel belongings will be forwarded to the Citadel Prime." Without another word, Mentor turned and headed to a secured transmat platform. Fallon followed silently.
There was a feeling of mild tingling and disorientation, and then she was there. The central plaza of the Citadel Prime, the headquarters of the Shi'ar Imperial Guard. It was the tallest structure on Chandilar besides the Royal Palace itself. Massive columns of gold and red reached into the heavens and met at an apex, terminating into a brilliant contained fusion star. Fallon had read that Mentor had created it himself and that it provided all the Citadel's power needs. The plaza offered a view within the Citadel up the entire height of the tower. Personnel and Guardians alike floated and flew throughout the central column.
The plaza was a buzz of activity. Where the spaceport was organized chaos at best, the Citadel was ordered and disciplined. Administrative officers sat in holographic interface couches monitoring real-time datastreams from across the Empire. The Guard was far more than the Superguardians that acted as the defense of the Empire. They were supported by an immense staff around the clock.
"I'll pass you on to Imperial Commodore Hadrian," said Mentor as a smartly dressed man approached them. "We will meet later this evening for dinner." He nodded once at Fallon. "Welcome to the Guard." An instant later he turned and floated upwards, flying into the upper levels.
"Guardian Caravix," said Hadrian, "It is an honor to welcome you to the Citadel Prime. If you'll follow me, we'll get you settled in your quarters and go through some administrative details."
"Yes, thank you," said Fallon. She followed Hadrian through the throng of movement, trying not to gawk as she had in the spaceport.
Trying…but not entirely succeeding.
***********
"Back from the welcome wagon?" asked the blue-skinned telepath Oracle.
Mentor tipped his head slightly. "Status Report, please." He took his seat in the primary command chair. Holographic interface screens came to life before him.
"Superguardian Fang reports the terrorist threat on Quantas Prime has been 'declawed' in his own words," said Oracle. "Reports suggest all but one of the terrorists are terminated."
"Acceptable," said Mentor.
"Superguardians Neutron and Impulse have successfully dealt with the Z'Nox insurgence on Galactis Prime," said Oracle. "One survivor, as per your instructions."
"Excellent," said Mentor. "We need to get to the source of these sorties. Ensure the survivor is appropriately interrogated."
"Of course," said Oracle.
"Gravimetric disturbances continue to escalate in the Hyperion sector," she continued. "Remote scanning stations are monitoring and keeping us and the Science Corps apprised. No threat to life noted as yet.
"What else?" asked Mentor.
"Of the seven hundred and forty issues under our observation, those are the only Alpha-designates at this time, Praetor," said Oracle. "It's quiet."
"Hm," said Mentor. "Not for long."
**********************
He stood looking out at the expanse of the Shi'ar capital from his quarters, opening up his senses. He took in every sound, frequency and action within the city, but he focused primarily on the Citadel Prime. It was not his home anymore, the Royal Palace was…but he missed it nonetheless. Duty was first in his mind, but in the end, he allowed himself a few moments to wish for better times.
Kallark, also known as Gladiator, was one of the last of the Strontian race. His power was based on his confidence in himself and his abilities. In the past, nothing could stop him as long as he believed it to be so.  Now, as Majestor of the Shi'ar Empire, the better part of a galaxy rested on the decisions he now made. He could afford no break in his confidence…and yet now was when it was most shaken.
His heart still grieved for the loss of Lilandra, former Empress Majestrix of the Empire. Shot dead by an assassin, he had felt her loss like no other. Despite her love for the Earthman Xavier, he had always held out hope they could be together, while at the same time knowing their stations in life made it impossible. Despite the incredible things he had done in his life, he had been unable to protect her. Now, he had assumed her role to honor her…but it made her loss no less painful.
"Majestor," came a voice from the entrance. Kallark knew who it was before she had uttered a word. Truth, he had heard her approach from the gravlift minutes ago.
"Araki," said Kallark, "Enter."
Councillor Araki, latest in the long-lived family of Royal advisors, knelt before entering the Majestor's chambers. "Milord, I have the latest briefings for your review."
"Upload them to my personal node and I'll get to them shortly," said Kallark. "Come, stand with me."
Araki stood beside and just a step back from the Majestor at his balcony. "Is there a problem, Majestor?"
"Look out. What do you see?" asked Kallark.
Araki looked out and thought about her response. "I see the majesty of the Empire, Majestor."
"Yes, Majesty," said Kallark. "I also see an Empire that despite its majesty came closer to ruin in the last cycle than any other time in its history. Considering the long history of the Empire, that says something, Araki."
"Majestor," said Araki, "We are again free to rule ourselves. The Kree are no longer our overbears. The Atillan Royal Family has left us to our own devices. We are an Empire strong once again."
"No," said Kallark. "Not yet. After the rules of D'Ken, the hell of the Nova Mummadrai and now Vulcan and the Kree Inhumans…we are not the Empire we were. Lilandra had us at that pinnacle for too short a time. If we are to become that again…things must change."
"Change, Majestor?" asked Araki.
"Yes," said Kallark. "Schedule a Council session for tomorrow. I will be initiating the first of these changes then."
"As you wish, Majestor," said Araki.
"We will be an Empire to be respected again," said Kallark. "I swear this in Lilandra's memory."
****************************
Fallon followed Hadrian to the main assembly chamber. Within was a massive conference table with chairs for each of the Prime Superguardians. There were many sub-cadres of the Imperial Guard, but this room was where the elite of the ranks met. While the Imperial Guard was many, the face of the Guard was the occupants of this room.
It was empty now save for a few occupants. Fallon kept her cool as she was shown the facility.
"This is where you will convene for mission briefings and anything else pertaining to Superguardian business," said Hadrian. "Your seat is several over to the left.
She looked at the seat with the sunburst symbol emblazoned in gold. She wasn't the first to sit in this seat, nor would she be the last.
"New Starbolt," said one of the room's occupants. "You've got big shoes to fill."
Fallon looked over at Hussar, coiling and recoiling her energy whip like a nervous tic. "Superguardian Hussar, I hope to bring respect to the Starbolt FireCadre. I—"
"Don't let her bother you," said Plutonia, her blue exterior arcing with energy. "She was close to your predecessor."
"Don't get us killed," said Hussar as she turned to leave the room.
Plutonia put her arm reassuringly on Fallon's shoulder. "Welcome to the big time."
Fallon looked down at her hands and ignited them with starfire. She knew she was here for a reason. She was Starbolt Prime now.
"You'll fit in," said Hadrian. "They were each where you are now."
"I know," said Fallon…no, she had to think of herself as Starbolt now…"And I will exceed their expectations. I swear."
*************************
Hyperion System, Shi'ar Imperial Space
Zilius Pax sat in his diagnostic chair and watched the info feeds scroll past. His ocular implant fed the data directly to his cortex, but he still felt better seeing the data at the same time as he experienced it. He was the sole occupant of Shi'ar Science Station K'rai -6. Assigned to the Science Corps Cadre of the Imperial Guard, he was growing very bored with the scanning he had been tasked with. Yes, the Gravimetric readings of late had been odd, but surely they were due to the realigning stargates of the next sector and nothing else.
Cosmic Ray levels. Solar Flare activity. Comet path tracking. Pulsar wave metrics. Planetary orbit wakes. Gravimetric –
The Gravimetric readings were spiking again. They had been doing so for the last standard orbit, but now the wave metrics were building. In seconds they were off the charts.
"What in Sharra and K'thyri's name…" exclaimed Pax. These readings are analogous to a stargate…but orders of magnitude greater. These readings shouldn't even be physically possible. Could they be some distant manifestation of the Fault? They don't match the Fault's readings….yet…"
There were seven planets in the Hyperion System. The readings doubled in intensity, then tripled….
Then there were six planets in the Hyperion System.
"By the Majestor," exclaimed Pax. He couldn't believe his three eyes. An entire planetary body had simply…vanished.
Then everything went haywire.
Gravity readings scaled up and down repeatedly. Every physical reading was warping impossibly…
There were now seven planets again. Only where the previously vanished one had been, was now one four times larger. Gravimetric energy lashed out in a massive wave, obliterating everything in its path.
Pax calculated that his station…and his life…would be obliterated in ten seconds.
He sent a purgeburst to the nearest stargate relay, piggybacking his data scans from the past orbit, hoping they would be picked up by the Imperial Guard…
He looked at the long range view of the newly arrived Hyperion planet. It was populated…and armed more than anything he had ever seen.
He wished he could have seen his family one more time…
Then everything was gone.
********************
"Incursion complete, Powerlord."
Powerlord Kruun nodded at the confirmation of the successful Incursion. Like other universes before this one, this was but the first part of the invasion. Their presence would be known. Locals would flock to them. Fear would be at the forefront of their minds.
"Galactic scans indicate we are in the heart of the Shi'ar Empire, Powerlord."
"Shi'ar Empire? Excellent," said Powerlord Kruun. "It's been some time since I killed a Superguardian. I wonder if this universe has a Gladiator?"
He turned to the assembled men around him. "The Breakworld has arrived. Ready yourselves. We begin our great mission once again."
*********************
Next Issue: 'Incursion' – Part One!