Amazing Spider-Man- "Bird of Prey"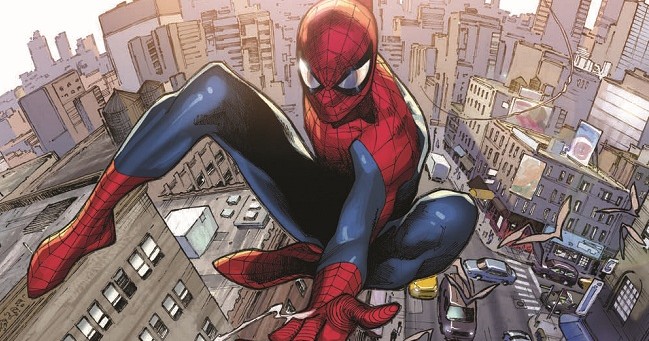 4:30 AM
Adrian Toomes hung Justus Welch over the edge of the Time Warner Center's roof.  Justus's hands grasped the Vulture's arms and his legs kicked futilely as Toomes held the lapel of his jacket tight.  The slim man was sweating so profusely that his brown hair was soaked.  Meanwhile, Toomes was perfectly calm and collected in his black and red flight suit.
"Look man, I'm sorry!" he exclaimed.  "I'm so so sorry!  Don't drop me!"
"I wish I believed that," Toomes said.  "However, you snitched on myself and my colleagues.  With my new boss, that's very much frowned upon."
"Look Vulture," he said.  "It won't happen again.  My days as a CI are over."  He gulped two deep breaths of air.  "In fact, this can work to your advantage.  I can stay a CI and help you.  Like give the cops false info so you can ambush them.  Become a CI-I sorta!"
"Oh, how I wish you were telling me the truth, but alas-"  Toomes released his grip.  Welch quickly lost his grip on the Vulture's slick armor, and the snitch dropped.  He fumbled in the air as he began to fall, but gravity quickly hold and dragged him the fifty-five stories to the pavement below.  Vulture smiled, baring his crooked teeth.
"-I simply do not give second chances to cowards."
He pulled a slim phone from his belt, pressed the screen, and glared down at the splatter on the pavement.  His earpiece rang three times.
"Good morning Mister Toomes," the voice that picked up said.  Adrian was surprised.  He expected voice mail at this time of day.
"Welch is taken care of, Hood."
"Good, do any other leaks remain?" the Hood asked.
"Just one," he said.  He climbed over the lip of the roof, stood for a second, then jumped into the ether.  After a moment of freefall, his suit caught him, and lifted him into the sky.
"Trust me though," he said.  "It's as good as taken care of."
=*=
ALTERED VISIONS PRESENTS
"Bird of Prey"
By Tony Thornley
=*=
Peter Parker's eyes fluttered open.
He yawned, stretched his arms over his head and turned over.  He smiled as he saw his wife in bed next to him.  Mary-Jane was still asleep, but for the first time in weeks, both of them could see each other during normal human hours.  He sat still for a few minutes before leaning over and kissing her on the forehead.  She smiled and one eye slowly poked open.
"Morning Tiger," she whispered.  She yawned, and pushed the covers off.
"What are you doing home?" he asked.  "I thought you had an early rehearsal today."  She slid forward and kissed him on the cheek, then sat up.
"I did," she said.  "But they cancelled.  The tech difficulties from the other day are putting a delay on things.  We're off for the next two days."
"Oh really?" Peter grinned.  He wrapped his arms around his wife and drew her in close.  "I am the photo editor now.  I could be late."
"You could just take some pictures," she said.  Peter smiled.
"I don't think the Bugle would be the publication to buy any pictures I would take this morning," Peter whispered with one raised eyebrow.  He leaned in, and the two began to kiss passionately.
Peter's phone began to ring on the nightstand.
"Son of a bitch," he whispered.
"Duty calls," MJ grinned.  Peter rolled over and grabbed the Stark Phone.  He swiped his finger across the screen and he read the caller ID.  The Bugle offices.
"Morning," Peter muttered.
"Hey Pete," Robbie Robertson said on the other end.  "Sorry if I'm waking you, but I need your help."  Peter sat up on the edge of the bed.
"Don't worry about it," he said.  "What's going on?"
"I hate to do this to you, but we have a pretty brutal murder," he said.  "Someone thrown off the Time Warner Center.  Whispers I'm hearing from NYPD identifies the victim as a CI."
"And how do they know it's a murder and not a suicide?"  Peter glanced at MJ and curled his lip in disgust.  This one was going to be bad.
"It happened between 4 and 5 AM and the building is pretty heavily monitored," Robbie said.  "Security didn't see him enter the building or get to the roof access."  
Peter nodded as he listened.  "I'll grab a quick shower and be on my way," he said.  "Thanks Robbie."  Peter put his phone down and glanced at his wife.  "I'm sorry."
"Don't be," she said.  She reached out and rubbed his back for a moment.  "Go be a hero."  Peter laughed as he stood and began to undress.
"I wish!"
=*=
Spider-Man swung over the city, nearing Columbus Circle.  He could see the police gathered around a small spot at the corner of the Time Warner Center.  He swung in a high final arc, landing atop a building across the street at 57th and 8th.  His spider-sense buzzed slightly, but Peter scanned the surrounding area.  Nothing.
He pulled his camera from the messenger bag he wore at his hip and zoomed it onto the scene as close as he could.  The police gathered around a sheet-covered body, a pair of crime scene techs crouching around one corner of the sheet, which had been pulled back.  He frowned.  Neither tech was Ben.  He had hoped, but then from what his "brother" had told him, they really only used him in the super-crime unit, and since this wasn't obviously a super-crime…
His spider-sense buzzed again, this time snapping his reality into sharp focus.
Spider-sense was usually accompanied by an intense shot of adrenaline, while he senses came sharply into focus all around him for a few brief seconds, just long enough to avoid the danger.  This resulted in a moment where time seemed to slow around him.
A pair of pigeons fluttered away from him, each feather catching the wind in a high pitched rustle.
The air conditioning unit behind him vented a minuscule amount of coolant into the air.
A familiar cologne came from his left, and he jumped behind the air conditioner.
Peter dropped to a crouch, and peered back around the air conditioning unit.  The Vulture sat on the edge of the building, the sun shining off his smooth scalp.  Fortunately, the old man hadn't seen him.  He must have been just outside his periphery.
"Smart money says he's our killer," he muttered to himself.  He considered revealing himself and confronting the Vulture, but that would get him nowhere.  Toomes was smart.  He wouldn't just throw a guy off a building.
He snuck around the A/C, tapping his web-shooters twice to activate a spider-tracer.  He ducked around the corner, threw his arm out, and tapped his arm.  The quarter-sized device shot from his wrist and attached itself to Vulture's armor.  
He needed to get some work done, and the tracer would let him pick up on Toomes when he was actually doing something.  He scowled as he watched his long-time foe for a minute, then he ran to the edge of the building and jumped.
=*=
Peter adjusted a skinny tie loosely around his neck.  He walked towards the the taped off area, glancing back up at the building behind him.  He could still see the Vulture, who was barely a speck now, watching the police mill beneath him.  He scowled and turned back to the scene.
He pulled his camera from his messenger bag and began snapping pictures.  The crime scene was on the corner nearest Central Park, and the press was gathered across the street, as close as they could get.  A short blonde in torn jeans, a loose white t-shirt and blazer waved and ran over to him.
"Norah, hey, what's up?"
Norah Winters grinned as she slowed and her short bob bounced as she stopped.  "Tell me your cousin's working this one," she said.  
Peter shook his head.  "No such luck," he said.  "He's strictly supercrime."
"Oh come on," she said.  "How is this not a supercrime?  He was thrown off a fifty story building.  That's like Venom crap."
"Or the Vulture," Peter grunted.  Norah shrugged.
"Yeah, I guess," she said.  "If you're into old farts."
Peter rolled his eyes.  As much as he liked Norah, she was pretty abrasive.  She probably did it intentionally, but she didn't realize the impact it made on some of her relationships.
He raised the camera and snapped several more pictures.  A sheet-wrapped body was being wheeled away on a gurney.
"You've never seen the Vulture in action," Peter said.  "He's scary."  He glanced back over his shoulder.  The villain was gone now.  "Really scary."
"You say so," she said.  "You get some good ones?  I was able to get what I needed.  Not that it's much."
"Yeah," Peter said.  "It's enough."
=*=
Ollie Osnick pushed his chair away from the desk that he jokingly called the monitor womb.  He didn't peel his eyes away from the monitor set up he maintained until he reached his mini fridge.  He was surprised to run into somebody before he got there.
"Watch it there cowboy," Spider-Man said, laughing.  Ollie took a deep breath and laughed.
"Sorry Peter," he said.  "Just antsy and needed a coke.  Weird day today."
"Oh yeah?" Peter said.  He walked up to the monitor womb and removed his mask.  The monitors showed a massive map of New York City, with three to five second bursts of surveillance video popping up from time to time.
Ollie pointed at the map.  "Blue dots are part of the Web.  Yellow are trouble areas- reports of robberies, domestic disturbances, etcetera.  Red are confirmed active super trouble spots."  He turned to the mini fridge, opened it with his right hand and grabbed a can of soda.
Peter stared at the map for a moment before turning to Ollie.  "There's no red on the map," he said.  
Ollie nodded and popped the tab on the can.  "Exactly.  Usually at any given time there's at least a half dozen to a dozen active events.  Today, nothing."  He sighed and wheeled back to the desk.  "At least not confirmed."  He leaned forward onto the desk.  Peter looked down.  Ollie's left arm ended in a rudimentary three fingered bionic limb.  He bit his lip and looked back at the map.  Ollie uncomfortably moved his arm off the desk.
"So, there might be a few like the Vulture scene I just left, but just like that one… it's not obvious.  So, what's the change?"
"Don't know," he said, taking a sip of his soda.  "But whatever it is…"
"Not good," Peter sighed.  "Dammit.  So what does that mean?"
=*=
The Hood stood in front of a large conference table.  He lowered his hood and smiled.
"Ladies and gentlemen," he said, holding his arms wide.  "Thank you for joining us today.  All of you know my associates the Sinister Six."  He turned slightly and waved to the quartet behind him to his left.
"Yeah, yeah, we all could care less about your monologue.  Get to the point."
"Thank you Mister Creel," he said.  "Right to the point then.  How would each of you like to be wealthier than you ever have been before?  How would you like to be the kings and queens of New York?"